Our New Dental Patients Receive Personalized Dental Care for Your Unique Smile.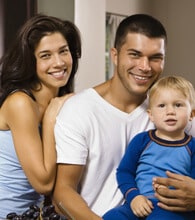 Your new patient visit will take about an hour and a half. When you arrive, feel free to visit our fresh juice bar or enjoy a cup of coffee. A friendly staff member will make sure you're comfortable, then walk you through your new patient paperwork.
As a part of your new patient experience you will be given a tour of our office, introducing you to our staff and making you comfortable with your surroundings. You'll meet the dentist to discuss the reasons for your visit, as well as your dental goals and expectations, and receive a thorough exam. Dr. Simmonds will inspect your existing dental work for wear, assess the health of your teeth, and check your gums for signs of periodontal disease.
She'll also examine your bite alignment and perform an oral cancer screening. A complete set of digital X-rays will provide a detailed view of teeth and supporting structures for fast, accurate diagnoses.
During your exam, Dr. Simmonds will take pictures of your teeth and gums with an intra oral camera and display them on your chair side monitor. These images provide a comprehensive view of your mouth and are a useful tool to explain findings and suggested therapies.
Payment Options; We accept cash, and all major credit cards. No checks will be accepted. Third-party financing, with no or low interest, is available Please call the office for additional details.
Insurance Information
We'll electronically file your insurance claim and attempt to answer any questions you may have regarding your coverage. As the patient, you are responsible for all applicable co-pays and deductibles which are due when services are rendered.
Changing lives. One smile at a time. Call today to schedule your new patient visit with Dr. Simmonds. We give families in Orlando and Metro West customized care for beautiful smiles and lasting oral health.
Finally an Affordable Savings Program Designed to Save You 20-40% Off
Our Dental assistance savings plan, Mosaic Dental Center Discount Plan, is designed to provide affordable and greater access to quality dental care. With your Dental Discount Plan there are:
No yearly maximums
No deductibles
No claim forms
No pre-authorization requirements
No pre-existing condition limitations
Immediate eligibility (no waiting periods)
Free Consultations
6 REASONS WHY OUR PATIENTS LOVE OUR PRACTICE
1) Our Team- Your Dental Family
When you are here you are family. Our team takes time to get to know and looks forward to building a lifelong relationship.
2) Our Comfort zone
We've created a comfortable, relaxing environment where each member of your family will receive the quality care they deserve. You'll like our friendly, knowledgeable staff and deluxe amenities. Dr. Simmonds cares about your smile and uses proven therapies and state-of-the-art technology to deliver exceptional service.
3) Advanced Whitening
Advanced professional teeth whitening system offers the latest and most advanced state-of-the-art technology to whiten teeth several shades lighter in a little over an hour.
4) Invisalign
The invisible way to straighten teeth without braces, using custom made undetectable aligners. So whether your teeth are crowded, too far apart, or have shifted since wearing braces, you will have a new reason to smile.
5) Health and Safety
Mosaic Dental Center is equipped with the latest dental technology and meets or exceeds government standards of infection control. We take pride in ensuring you and your family's complete safety in the most caring and gentle manner.
6) Cosmetic Dental Options
Look younger and enjoy lasting beauty with the perfect blend of art and science. Thanks to the wonders of modern dentistry, with procedures as bonding, porcelain veneers, aesthetic recontouring, tooth whitening, and implants, you can have your dream smile.